Romany style caravan – 4 berth with balcony
Surface area : 20m²
Number of bedrooms : 1 double bed in alcove; 2 bunk beds in cabin
Number of people : 4
Description of the Romany style caravan
Warm ambiance of solid wood – special care taken with fittings and decoration for an unusual, original holiday.
Comfortably equipped for 4 people
Kitchenette comprising: sink, fridge, 2 burner hob, extractor hood, microwave oven, crockery, electric coffee maker, toaster
Cupboards
Double bed in alcove (140 x 200cm)
2 bunk beds (90 x 190cm). Please note that the top bunk is not suitable for a child under 6 years of age. Decree Number: 95949 from 25/08/1995
Closet
Bathroom with shower, washbasin and toilet
Electric heating
TV
Covered Picnic table
Barbecue
Year: 2010
Rates & Availability
Our other accommodation
Address
28 rue de Frévent - 62770 Fillièvres
Photo Gallery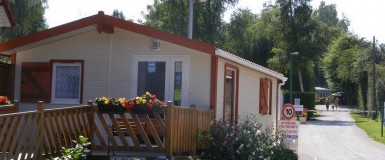 Camping des 3 Tilleuls
9.4 / 10
Average rate on 150 reviews
Quality/price ratio
9.2 / 10
See more...
See less...
tres bon sejour " Nous avons passe un agreable sejour malgre le temps tout est parfait entretien proprete et convivialite (See more...) "

tres bon sejour " Nous avons passe un agreable sejour malgre le temps tout est parfait entretien proprete et convivialite (See less...) "

Quality/price ratio

10 / 10
tres bon sejour " Environnement calme et reposant, campeurs tres sympatiques, camping tres propre (See more...) "

tres bon sejour " Environnement calme et reposant, campeurs tres sympatiques, camping tres propre (See less...) "
retour aux sources " Cest 20ans plus tard que je reviens avec beaucoup d emotion au camping des trois tilleuls. Merci a franck et janique pour leur accueil chaleureux, ca ma emu. Je reviendrais. Merci (See more...) "

retour aux sources " Cest 20ans plus tard que je reviens avec beaucoup d emotion au camping des trois tilleuls. Merci a franck et janique pour leur accueil chaleureux, ca ma emu. Je reviendrais. Merci (See less...) "
Quality/price ratio

10 / 10